Incorporated in 1964, Driediger Farms Ltd. is one of British Columbia's largest wholesaler, retailer, producer and distributor of fresh and frozen berries throughout North America, Europe and Asia. Driediger Farms also operates an on-farm market that caters to the local foodie community and those who are interested in maintaining a connection with their local farms.
The Driediger Family started with a 10 acre strawberry field then throughout the 1980's and 90's they grew and diversified into raspberries, blackberries and blueberries.  Currently the farm consists of 160 acres located on some of the best berry growing land in BC.  The farm is owned and managed by Rhonda Driediger.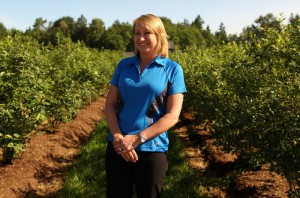 For further information for our on-farm packing operation, please visit the following website http://www.blueridgeproduce.com/
For more info on our certifications, the environmental farm plan & integrated pest management plan, or how to join our team – click on through!