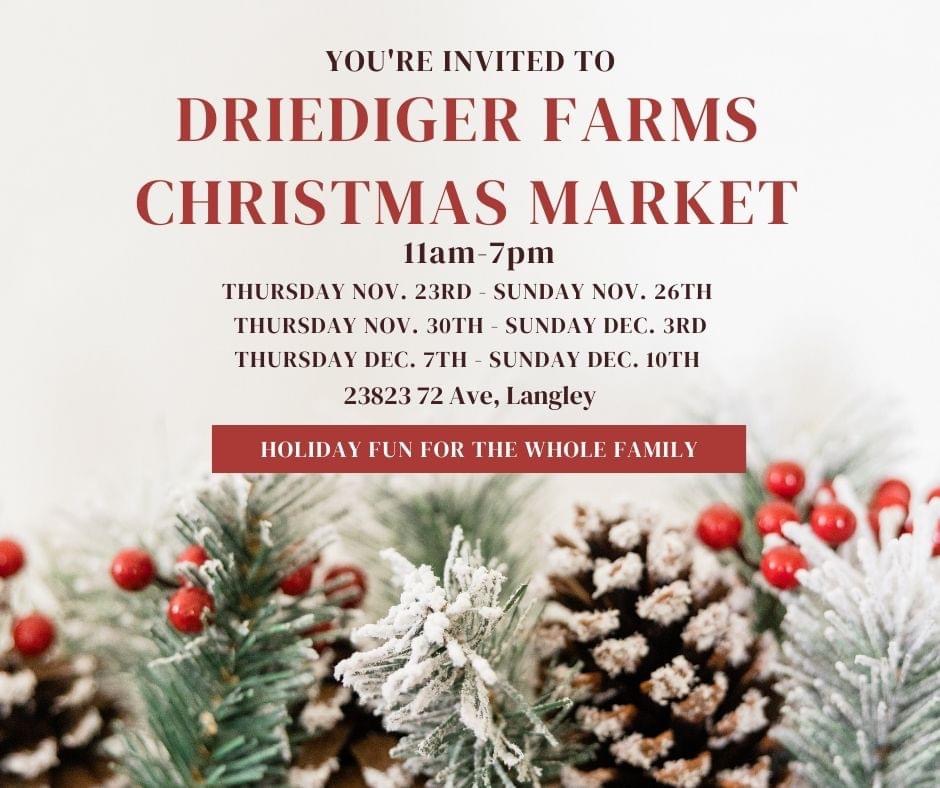 Local grown BC berries and U-pick fields right here in Langley, BC
thank you to our amazing customers for another great berry season!

Driediger Farms has been your destination for delicious BC Strawberries, Blueberries, Blackberries, Raspberries and Red Currants since the early 1960's. Although our farm has grown over the years we continue to bring our community the best of BC berries, both in our market and from our U-pick fields.
Driediger Farms is closer than you may think, conveniently located on 72nd Ave in Langley, BC just off Highway 1 Exit 66. Driediger Farms is easy to find and close to great Langley attractions such as historic Fort Langley , and Thunderbird show park.
Driediger Farms is your first stop on the Circle Farm Tour and featured on many Langley Tourism maps and attractions listings.
Although our berries travel worldwide to be enjoyed, you don't have to leave the Fraser Valley to enjoy fresh Strawberries, Blueberries, Raspberries, Red Currants and Blackberries.
We have a passion for local BC berries
It's no surprise that BC berries straight from the farm just taste better.
We farm over 160 acres of Strawberries, Blueberries, Blackberries, Red Currants and Raspberries. All of our delicious berries are available during the season in our local farm store and straight from our U-pick fields.
Driediger Farms Market is dedicated to bringing you fresh produce, eggs, ice cream, baked goods, and specialty artisan products in one convenient location. This convenience, quality and local fresh product assortment is what makes our store a genuine farm fresh daily market.
Berries are our Business
Driediger Farms is most known in our local community for our U-pick fields, farm store, and our beautiful fields. We are proud of our connection to the community and surrounding areas and look forward to seeing guests at the farm every year.
Newsletter signup
Join our newsletter to stay up to date with all things Driediger Farms Market!